Founded in 1948, the original mission of Strata Networks was to provide telephone service to the rural areas of the Uintah Basin. Today, Strata Networks is much more than a telephone company – it is a telecommunication solution, offering nationwide wireless coverage, the fastest broadband internet in the Basin, streaming television, and home telephone service.
Headquartered in Roosevelt, Utah, Strata Networks has become the leading telecommunications provider in the Uintah Basin, serving over 60,000 customers. Extending coverage to the tristate region, Strata Networks continues to execute their original mission of connecting people. Strata Networks has over 13,000 fiber-lit locations.
0
States Served: Utah, Wyoming & Colorado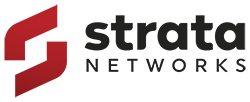 Strata Networks Fiber Network
Strata Networks is proud to offer "Small Town. Gig City." with speeds up to 1 Gig on their fiber network.